Osheaga 2022, Day 1: Backyard parties, hometown heroes and little surprises
July 31, 2022
Thousands of colourfully dressed concert-goers with inflatable pool toys under clouds of music. The energy is infectious.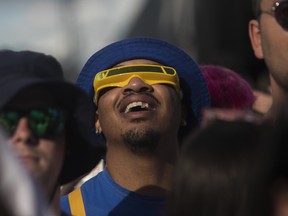 Postmedia may earn an affiliate commission from purchases made through our links on this page.
Article content
It's back! After two years of failed attempts at hosting the city's biggest music festival, due to the COVID-19 pandemic, the Osheaga Music and Arts Festival kicked off its 15th edition on Friday. And it feels like no time passed at all.
Article content
Just past the gates at Jean-Drapeau Park on Île-Ste-Hélène, I was immediately greeted by the sound of Gus Dapperton blasting a tune from a nearby stage, while thousands of people walked the grounds.  Crowds of colourfully dressed concert-goers with inflatable pool toys were everywhere. The energy was infectious.
It's clear Osheaga wants you to customize your festival experience, whether you're hanging onto the railing in front of your favourite band or listening at a distance from a spot on the grass. You can even chill out on a swing, not attend a single show and still have a pretty good time taking photos at all the landmarks.
Here's some of what went down on Day 1
4:40 p.m., King Hannah, Tree Stage
The festival grounds are so huge that catching up on King Hannah's set at the Tree Stage felt like I had accidentally stumbled upon a backyard party. The Liverpool duo and their band played an intimate set of tracks from their debut album I'm Not Sorry, I Was Just Being Me while the crowd silently listened, only to burst into cheer at the end of each song. Vocalist Hannah Merrick's crooning style coupled with slow but intense riffs lent weight to the show.
Article content
5:55 p.m., The Kid LAROI, Mountain Stage
I began to appreciate the genius of the side-by-side River and Mountain stages. Parked right by the entrance to the whole shebang, it's easy to get trapped there for the rest of the night, which is exactly what happened to me. By the time an act finishes on one stage, the other is about to start. Dominic Fike finished a short but strong set on the River stage, and not five minutes later, The Kid LAROI bursts out on the Mountain stage, raring to go. The 18-year-old rapper/singer from Australia kicked off the first show of the night that actually had some theatrics — he was introduced with a clip of him being bashed in the head with a hammer. Similar videos would continue throughout his set.
His brand of catchy hiphop and TikTok-perfect singles converted the crowd and cemented the diehard fans, who broke into mosh pits at The Kid LAROI's request. That energy stuck around for his whole set and went into overdrive when he played his biggest singles, Stay and Without You. Bonus points for spraying the crowd with jets of water.
Article content
6:45 p.m., Charli XCX, River Stage
English artist Charli XCX was the highest-billing pop artist of the day, and from our (very informal) polling of concert-goers, one of the most anticipated acts on Friday's roster. The release of her most recent album, Crash, cemented Charli as a bona fide pop star, and she didn't disappoint. Walking onto a stage framed by two romanesque white pillars and accompanied by two hunky backup dancers, Charli XCX looked like an ancient goddess. She played mostly tracks from Crash — my favourite being Yuck — and kept up a rigorous dance routine that would have exhausted lesser performers. By the end of the show, the River Stage had turned into a house party.
Still, I'll have a hard time forgiving Osheaga organizers for booking the hardcore-punk group Turnstile at the same time. Punk/Pop fans exist, too!
Article content
7:45 p.m., Yeah Yeah Yeahs, Mountain Stage
The New York art-rock trio the Yeah Yeah Yeahs are not a one-hit wonder by any means, spanning fantastic and captivating records for the last 22 years. But hearing the crowd chant for the band to play their hit track Heads Will Roll after every song might have fooled you.
"We'll play Heads Will Roll, you just have to be patient," lead singer Karen O replied. She arrive onstage in typical Karen O fashion, in a bombastic outfit of colours and tassels and a huge necklace with her initials on it. The cherry on top was a spiked and zippered helmet with a fuzzy tail. The band played a few songs from their upcoming album Cool It Down, threw huge beach-ball eyeballs into the crowd, and got everyone in on a chant of Tenderness, Love. And yes, yes, yes, they did play Heads Will Roll, and people did go wild.
Article content
8:55 p.m., Arcade Fire, River Stage
Arcade Fire weren't originally on the bill for this edition of Osheaga. They replaced the Foo Fighters when the band canceled the rest of their tour after death of drummer and founding member Taylor Hawkins. But the hometown heroes delivered the best show of the night, filled with huge numbers and little surprises. I wasn't very impressed with their latest album, We, but hearing the band open with Age of Anxiety — and a few more from the new album later on — forced me to reconsider. Frontman Win Butler often spoke to the crowd throughout the show, dedicating The Suburbs to Hawkins and calling him a good friend.
He gave some great love to the city where the band met, reminiscing about working at a sandwich shop on St-Viateur for seven bucks an hour while the band worked on its first songs. He called Montreal the "creative centre of Canada" and a multicultural melting pot.
Article content
The band even brought on Wolf Parade frontman Dan Boeckner for a cover of the Montreal band's 2005 track This Heart's on Fire.
Arcade Fire is a band that doesn't disappoint with live shows, and this one was no different. Old and new songs got the crowd dancing, forgetting how sore their feet are from a day of festival-ing. The band capped the show with their debut-album hit Wake Up, first a huge version with confetti cannons, then a more pared-down acoustic version of its chorus, while the first rainfall of the night refreshed the thousands in the crowd. A great start to a hopeful festival weekend.