NZ Victoria's Secret model Georgia Fowler gets engaged during photoshoot
July 30, 2022
Victoria's Secret model Georgia Fowler got engaged during a photoshoot about love.
The Kiwi model's partner Nathan Dalah got so swept up by the shoot's theme, he got down on one knee and asked her to marry him right in front of the cameras.
In the adorable video (watch above), Fowler is sitting and laughing on Dalah's lap when he suddenly says, "I had this really crazy idea… I know it wasn't part of the plan or part of the shoot but I'm going to do it anyway."
READ MORE: Prosecutors push to jail Shakira for eight years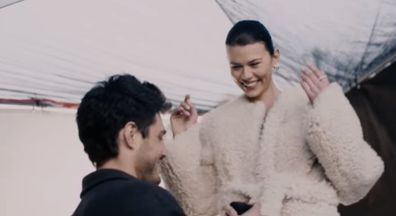 Then he drops down on one knee and candidly says, "I wanted to see if you wanted to be my wife."
Fowler wrote about the proposal in an Instagram post shared early this morning.
"Nathan was getting so into this Tiffany Love campaign that he surprised us all,  including the client – dropping a knee to ask me to marry him," she said.
"Of course I said yes. Nathan, you may be a little ad hoc at times, but you're definitely the one for me. I can't wait to be your wife, here's to forever."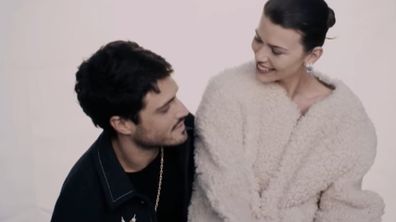 READ MORE: Love Stories: Steve Carell thought wife Nancy 'hated' him when they met
Fowler and Dalah have been dating since 2018 and had their first child together, daughter Dylan Aman Dalah, in 2021. Dylan and Fowler recently featured on the front cover of ONE magazine together.
According to the Sydney Morning Herald, Dalah is an Australian restauranteur and co-founder of poke bowl chain Fishbowl.
Fowler is best known for modelling in the Victoria's Secret Fashion show form 2016 to 2018. She also starred in the music video for Selena Gomez and Kygo's song 'It Ain't Me', and in late 2018, she was the presenter on New Zealand's Project Runway.
For a daily dose of 9Honey, subscribe to our newsletter here.