NICK CANNON AND BRE TIESI WELCOME THEIR BABY BOY
July 26, 2022
Nick Cannon and Bre Tiesi have welcomed their baby boy! Tiesi took to Instagram earlier today to share the happy news.
"I did it. An all natural unmedicated home birth. This was the most humbling / limit pushing yet awakening and completely empowering experience. I can't thank my team enough for delivering my son safely," Bre shared with her fans along with a series of photos showcasing the birthing process.
She continued, "This experience has changed me forever and I couldn't of asked for a more amazing and supportive partner", Daddy showed the f up for us.. I couldn't of done it without you. I can't believe he's here"
Bre also shared  her "raw and unfiltered" birthing experience with her Youtube followers. She explains, "The Vlog of my birth is now LIVE on my YouTube. I have documented my pregnancy, natural induction, labor, delivery as well as more information and resources for doulas midwife's and hypno birthing. It's Real RAW and I hope It helps anyone considering an unmedicated home birth."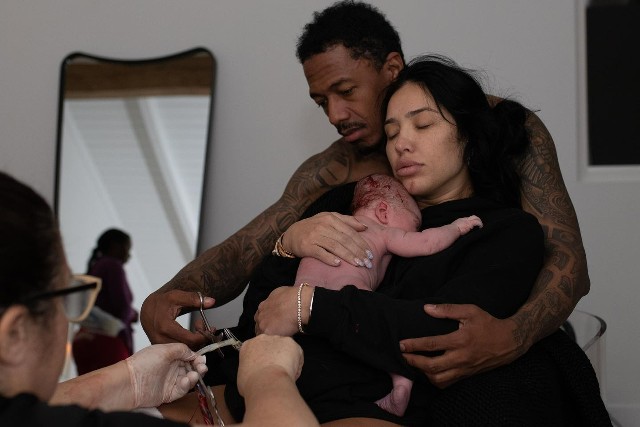 Nick Cannon's child with Bre makes him a father for the eight time. The entertainer is already dad to  twins Moroccan and Monroe, whom he shares with ex-wife Mariah Carey; son Golden "Sagon" and daughter Powerful Queen, whom he shares with Brittany Bell; and twin boys, Zion Mixolydian and Zillion Heir, whom he shares with Abby De La Rosa.
"I love my children. I love the people that I'm involved with," Cannon said during a recent interview with Men's Health. "People even often ask, 'Are you gonna have more, you gonna stop?' I'm like, those are questions that I don't, I don't really even sit around and think about," Nick shared with the press. "I'm just walking in my purpose and trying to be the best father and best provider I could possibly be."
Being the best father means being present. "I never have to worry or question if he is going to be present," Bre shares with ET. "That is something that's important to me," Tiesi explained. "But I'll make it happen. If I have to move things around, we'll do that too."