bitchy | Brad Pitt got a rapturous standing ovation at the Cesar Awards in Paris
February 28, 2023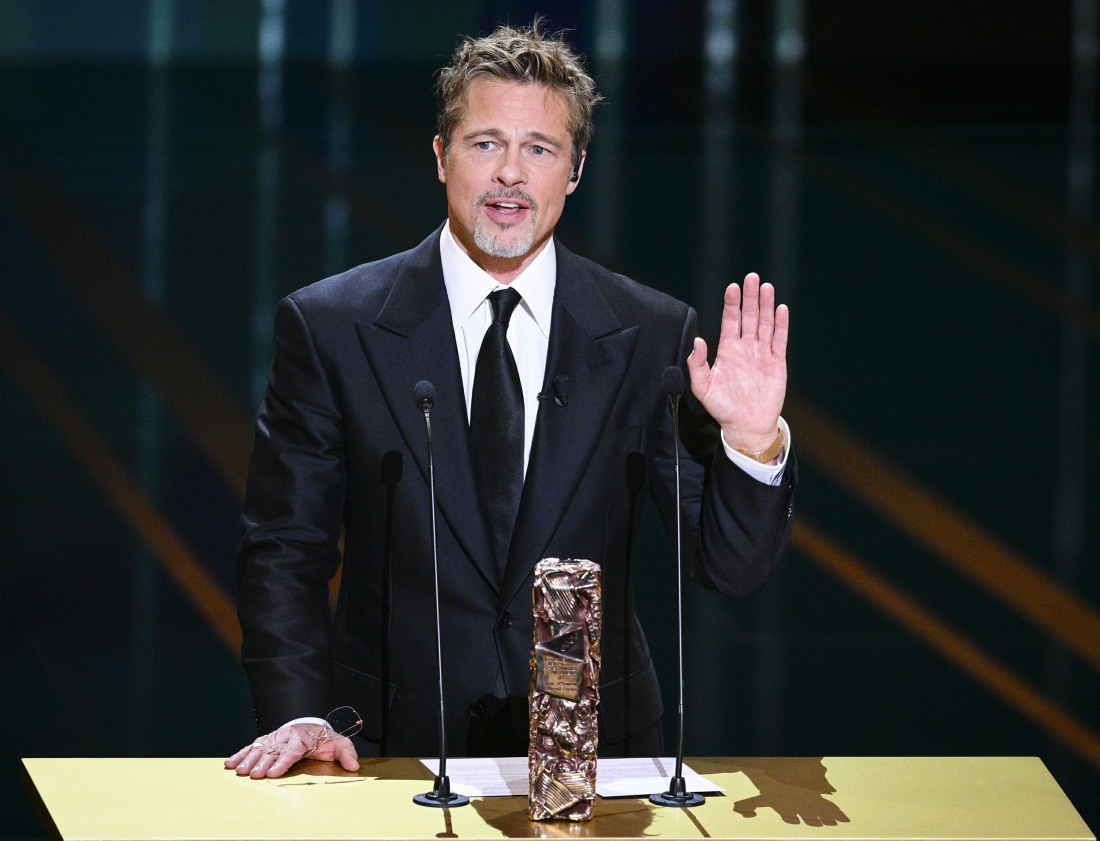 Here are some photos of Brad Pitt at this weekend's Cesar Awards in France. The Cesars are the French film industry's equivalent of the Oscars, and while the Cesars are not in the business of regularly recognizing American actors or filmmakers, they do make exceptions. Director David Fincher received an honorary Cesar for his body of work, and that's why Pitt was invited to the ceremony – to present the Cesar to Fincher, who he's worked with in Seven, Fight Club and The Curious Case of Benjamin Button, among other films.
Brad's face work has finally "settled" and he looks very shiny, fresh and tight for a man close to 60 years old. While his work didn't look "right" for several months, now that he's all healed up, I can see the quality of the work. It's very Tom Cruise-esque and Tom spends a lot of money getting some of the best surgeries and procedures out there. I wonder if they're going to the same surgeons? Anyway, when Pitt walked out onto the Cesar stage, he got a rapturous reception, a standing ovation from the French movie stars and industry types.
Quelle déclaration d'amour de Brad Pitt à David Fincher 🥹 #César2023 pic.twitter.com/Msu7CZG3XV

— CANAL+ (@canalplus) February 24, 2023
So… there you go. The French film industry is a lot like the American film industry: happy enough to embrace white male abusers. While I hoped that more people would take Angelina Jolie's story and legal moves seriously, it definitely looks like Pitt's expensive rehabilitation campaign has worked.
Meanwhile, Brad brought his girlfriend Ines de Ramon to Paris, and after the Cesars, they went on a "romantic date night." According to Paris Match and People Magazine, Pitt made Ins fly to Paris separately (weird) and then they went to dinner at Fouquet's on the Champs-Élysées. Pitt apparently flew into Paris last Thursday, while Ines flew in on Friday. Looks like she's the beck-and-call girl he's been looking for this whole time.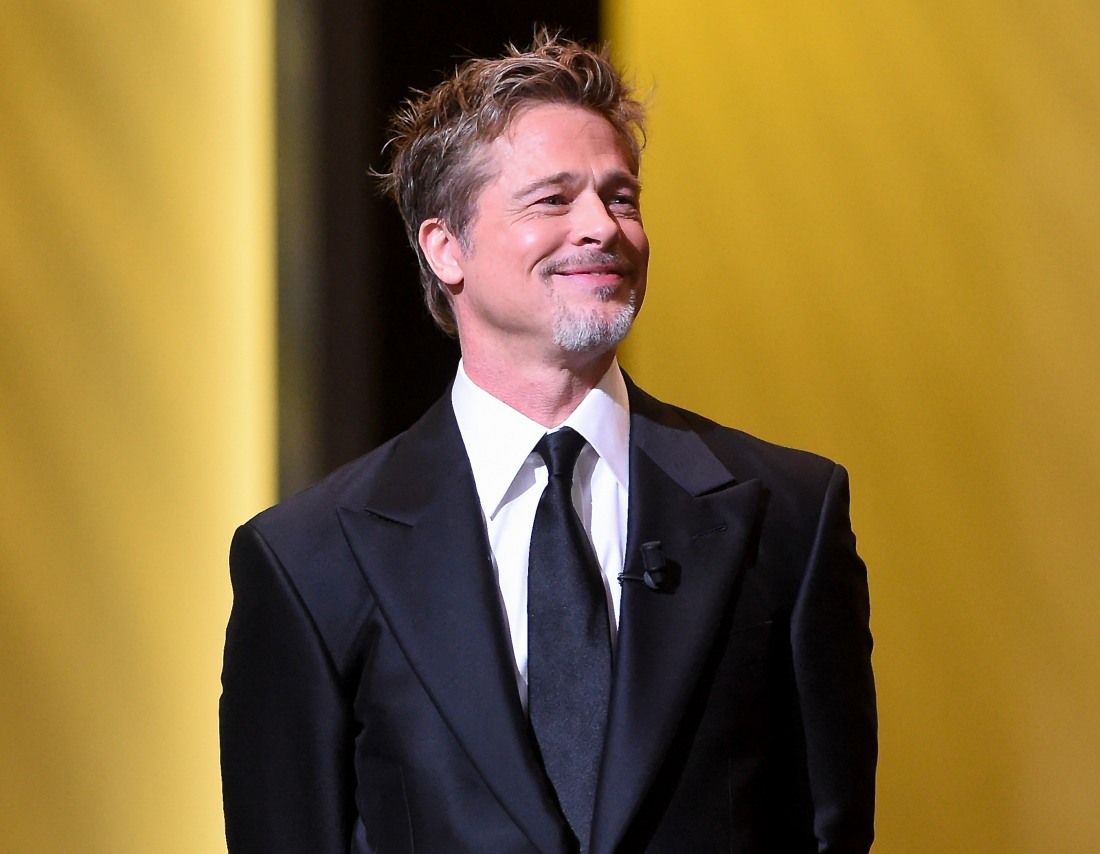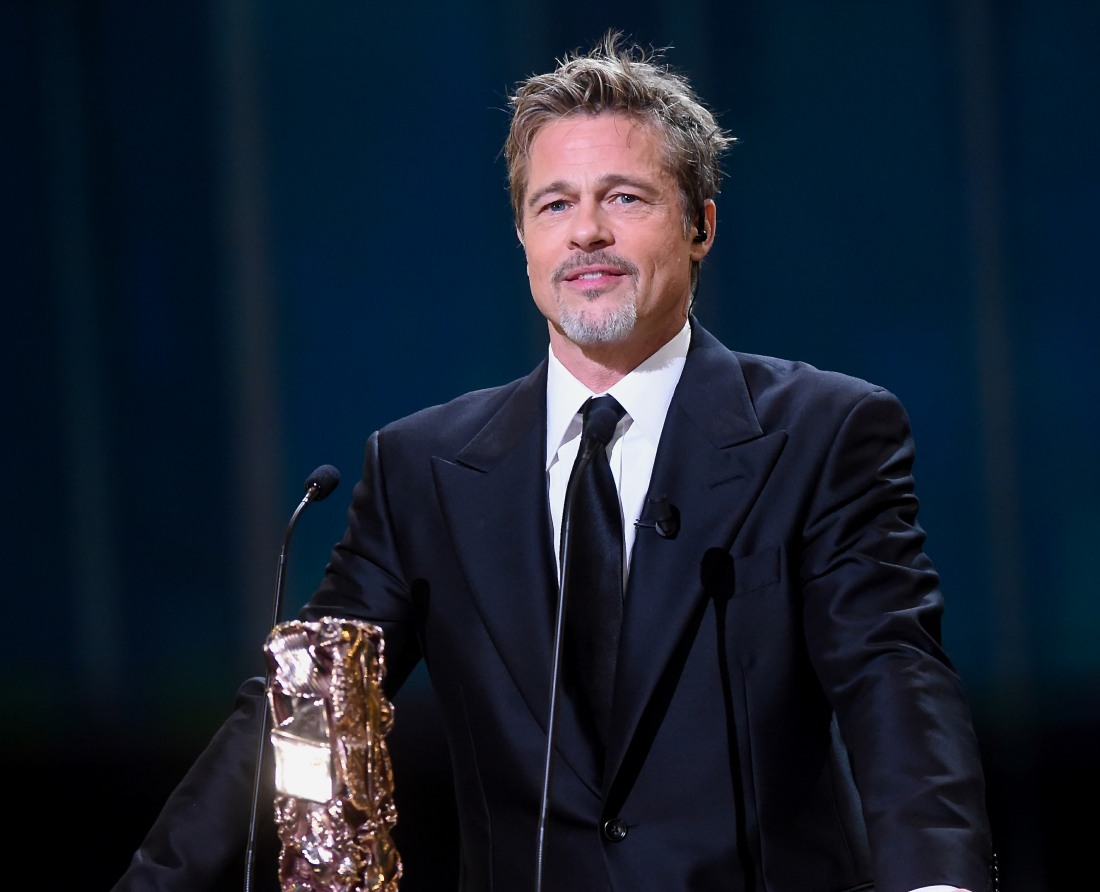 Photos courtesy of Avalon Red.
Apparition surprise de Brad Pitt pour remettre le Cesar d Honneur au realisateur David Fincher aux cote de Virginie Efira,Image: 758586934, License: Rights-managed, Restrictions: , Model Release: no, Credit line: JB Autissier / Panoramic / Avalon
Ceremony Cesar Film Awards 2023 At LOlympia In Paris PARIS, FRANCE MARCH 24 Brad Pitt introduces the Honorary César Award during the 48th Cesar Film Awards Ceremony At LOlympia on FEBRUARY 24, 2023 in Paris, France. 48e ceremonie Cesar 2023,Image: 758597270, License: Rights-managed, Restrictions: , Model Release: no, Credit line: MPP / Avalon
Ceremony Cesar Film Awards 2023 At LOlympia In Paris PARIS, FRANCE MARCH 24 Brad Pitt introduces the Honorary César Award during the 48th Cesar Film Awards Ceremony At LOlympia on FEBRUARY 24, 2023 in Paris, France. 48e ceremonie Cesar 2023,Image: 758598082, License: Rights-managed, Restrictions: , Model Release: no, Credit line: MPP / Avalon
Ceremony Cesar Film Awards 2023 At LOlympia In Paris PARIS, FRANCE MARCH 24 Brad Pitt introduces the Honorary César Award during the 48th Cesar Film Awards Ceremony At LOlympia on FEBRUARY 24, 2023 in Paris, France. 48e ceremonie Cesar 2023,Image: 758598180, License: Rights-managed, Restrictions: , Model Release: no, Credit line: MPP / Avalon
Ceremony Cesar Film Awards 2023 At LOlympia In Paris PARIS, FRANCE MARCH 24 Brad Pitt introduces the Honorary César Award during the 48th Cesar Film Awards Ceremony At LOlympia on FEBRUARY 24, 2023 in Paris, France. 48e ceremonie Cesar 2023,Image: 758598215, License: Rights-managed, Restrictions: , Model Release: no, Credit line: MPP / Avalon