bitchy | Angelina Jolie went on a three-hour lunch date with David Mayer de Rothschild
March 27, 2023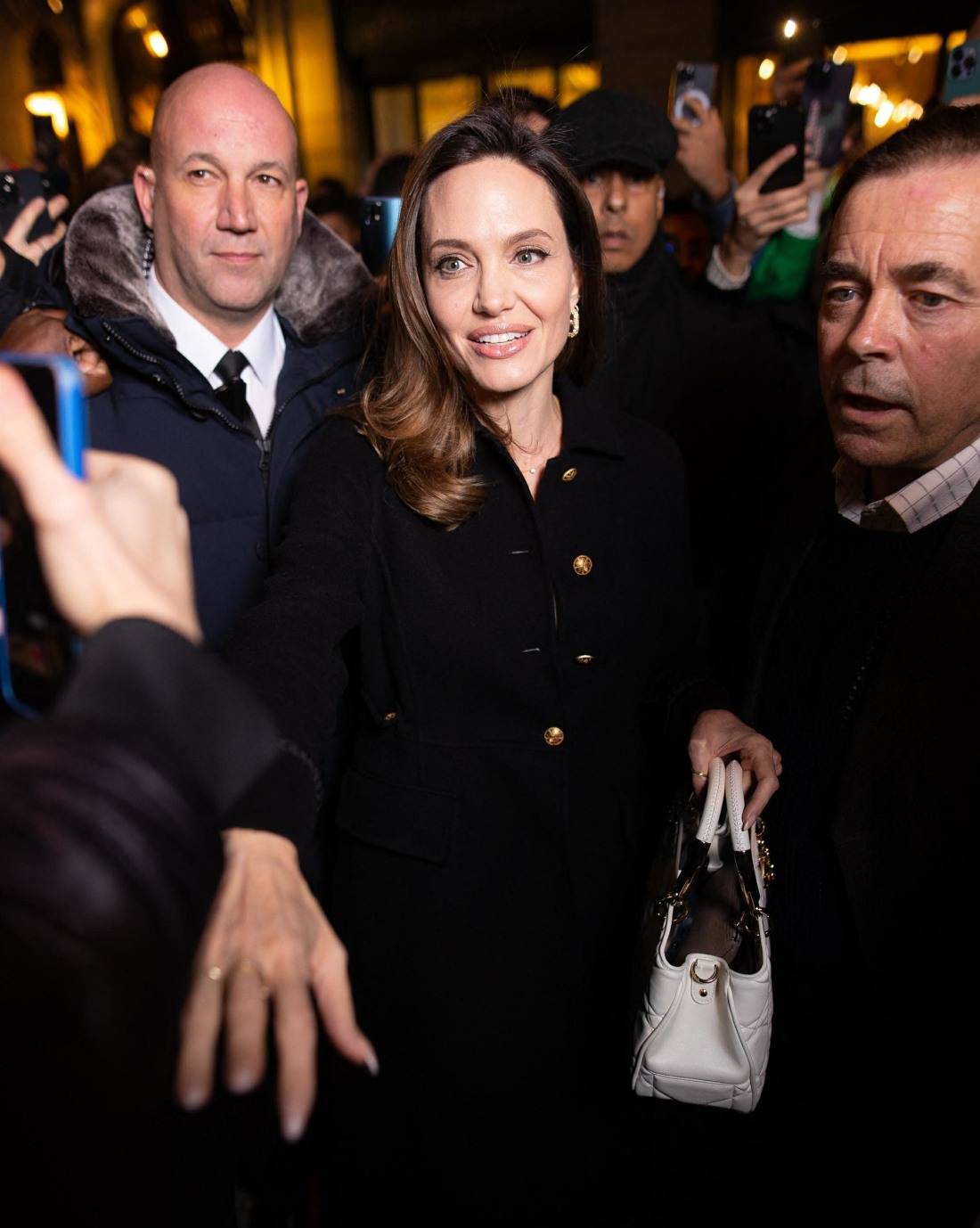 Ultimately, my dream is for Jonny Lee Miller and Angelina Jolie to get back together. For a second in 2021, it looked like my dream would come true – Angelina was seen visiting JLM's apartment in New York a few times, and they also went to dinner in Beverly Hills. Jonny and Angelina always stayed on good terms after their divorce, and Jonny has never said a word against her. I actually think Jonny became something like one of her closest friends. But… we haven't heard anything about them in a while, and if a tall, handsome, rich, British adventurer comes calling, why not? So it was a few days ago, when Angelina was seen having a three-hour lunch in Malibu with David Mayer de Rothschild. Yes, that kind of Rothschild.
Angeline Jolie spent three whole hours chatting away with hunky billionaire heir David Mayer de Rothschild while on a lunch date in Malibu, Calif., on Thursday. In photos obtained by Page Six, the "Maleficent" star, 47, was seen smiling as she exited celebrity hotspot Nobu with the British environmentalist, 44, by her side.

For the outing, Jolie wore a chic black dress with cutouts that showed off her midsection.She also paired the look with matching black heels and sunglasses. Paparazzi snapped the "Girl, Interrupted" star as she walked to her car and pushed back her hair.

Mayer de Rothschild, who is part of the richest family in the world, appeared in good spirits as well, as he flashed a smirk and laughed along with Jolie.

Reps for Jolie did not immediately return Page Six's request for comment on whether the pair were out to discuss business or pleasure. The meetup could have been work-related as both have interests in activism.
[From Page Six]
I wish we had the photos but they're super-exclusive, so I'm adding some tweets below. He's definitely hunky and tall. If you ask me, the body language from him seems "smitten, interested." Angelina looks fresh and pretty, and her body language says "this was a date and it went well." I'm so glad that her daughters (??) convinced her to wear a pretty dress for her date too – y'all know how much Angelina loves a billowy sack dress. Reportedly, Angelina's new BFF Salma Hayek is tight with David Mayer de Rothschild, so now I wonder if Salma set them up.
Angelina Jolie goes on three-hour lunch with billionaire David Mayer de Rothschild https://t.co/w6tX0sMG3l pic.twitter.com/skcWZw8rTR

— Page Six (@PageSix) March 25, 2023
🆕📸 #AngelinaJolie was seen with Environmentalist/Billionaire David de Mayer Rothschild.

Salma Hayek must be a real good influencer 🤭🥹🙏 pic.twitter.com/sksBVoWBOd

— D.K. 🐼🎭 (@AJExquisitely) March 24, 2023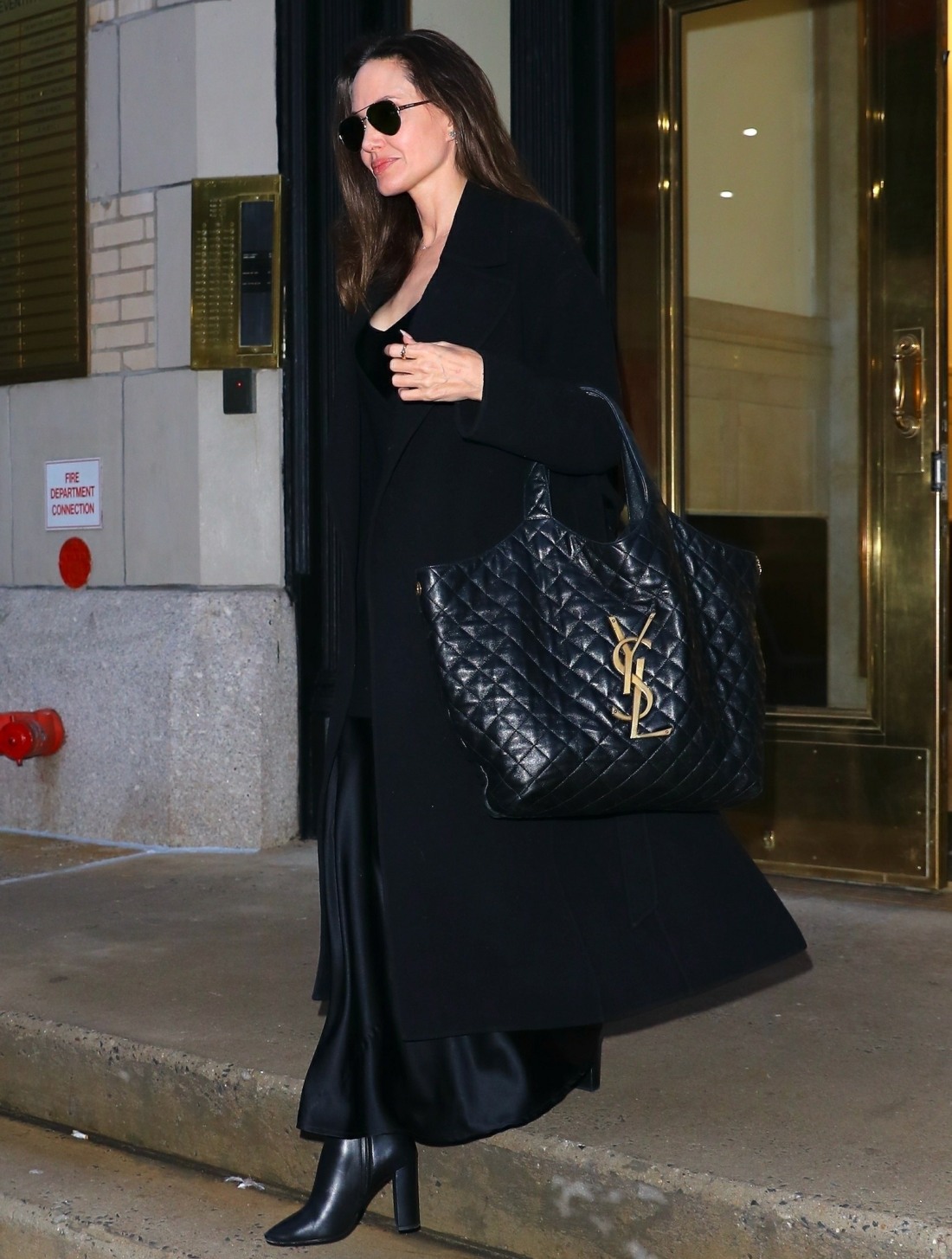 Photos courtesy of Backgrid.
New York, NY – The movie star was out for errands in NYC alongside her daughter Zahara and Angelina stuns in a black overcoat and wide-leg pants paired with leather booties.

Pictured: Angelina Jolie

BACKGRID USA 11 JANUARY 2023

BYLINE MUST READ: Ulices Ramales / BACKGRID

USA: +1 310 798 9111 / usasales@backgrid.com

UK: +44 208 344 2007 / uksales@backgrid.com

*UK Clients – Pictures Containing Children
Please Pixelate Face Prior To Publication*
New York City, NY – Angelina Jolie and Zahara Jolie-Pitt arrive for an event at Lincoln Center in New York City.

Pictured: Angelina Jolie

BACKGRID USA 11 JANUARY 2023

USA: +1 310 798 9111 / usasales@backgrid.com

UK: +44 208 344 2007 / uksales@backgrid.com

*UK Clients – Pictures Containing Children
Please Pixelate Face Prior To Publication*
New York City, NY – Actress Angelina Jolie looks stunning in a long black satin dress and a big black Saint Laurent bag as she leaves the Chelsea Arts Center in New York City.

Pictured: Angelina Jolie

BACKGRID USA 12 JANUARY 2023

BYLINE MUST READ: BlayzenPhotos / BACKGRID

USA: +1 310 798 9111 / usasales@backgrid.com

UK: +44 208 344 2007 / uksales@backgrid.com

*UK Clients – Pictures Containing Children
Please Pixelate Face Prior To Publication*
Paris, FRANCE – Actress Angelina Jolie visits the Guerlain Boutique at Champs Elysees in Paris, France.

Pictured: Angelina Jolie

BACKGRID USA 30 JANUARY 2023

BYLINE MUST READ: Best Image / BACKGRID

USA: +1 310 798 9111 / usasales@backgrid.com

UK: +44 208 344 2007 / uksales@backgrid.com

*UK Clients – Pictures Containing Children
Please Pixelate Face Prior To Publication*
Paris, FRANCE – Actress Angelina Jolie visits the Guerlain Boutique at Champs Elysees in Paris, France.

Pictured: Angelina Jolie

BACKGRID USA 30 JANUARY 2023

BYLINE MUST READ: Best Image / BACKGRID

USA: +1 310 798 9111 / usasales@backgrid.com

UK: +44 208 344 2007 / uksales@backgrid.com

*UK Clients – Pictures Containing Children
Please Pixelate Face Prior To Publication*
Paris, FRANCE – Actress Angelina Jolie visits the Guerlain Boutique at Champs Elysees in Paris, France.

Pictured: Angelina Jolie

BACKGRID USA 30 JANUARY 2023

BYLINE MUST READ: Best Image / BACKGRID

USA: +1 310 798 9111 / usasales@backgrid.com

UK: +44 208 344 2007 / uksales@backgrid.com

*UK Clients – Pictures Containing Children
Please Pixelate Face Prior To Publication*
Paris, FRANCE – Actress Angelina Jolie visits the Guerlain Boutique at Champs Elysees in Paris, France.

Pictured: Angelina Jolie

BACKGRID USA 30 JANUARY 2023

BYLINE MUST READ: Best Image / BACKGRID

USA: +1 310 798 9111 / usasales@backgrid.com

UK: +44 208 344 2007 / uksales@backgrid.com

*UK Clients – Pictures Containing Children
Please Pixelate Face Prior To Publication*