Bindi Irwin shares adorable footage of Grace Warrior telling 'Grandpa Crocodile' she loves him
July 31, 2022
Wildlife Warrior Steve Irwin may never have had the chance to meet his granddaughter Grace Warrior Irwin Powell, but she certainly knows who he is.
In a video shared to Instagram this morning by Bindi Irwin, the one-year-old is seen to be absolutely besotted with her grandfather, if how she reacts to a sign with his photo on it is anything to go by.
"We have a little construction going on to make our Tasmanian devil habitat [at Australia Zoo] even more beautiful. Grace's favourite part? Visiting Grandpa Crocodile. All the love," Bindi, 24, wrote alongside the footage. Watch above.
READ MORE: Aussie rapper Iggy Azalea reveals debilitating health battle with sciatica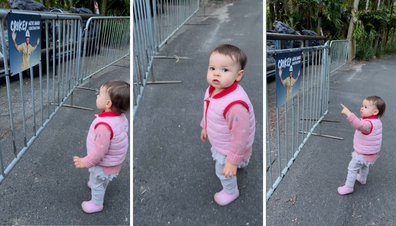 In the video, Grace – who is wearing an adorable pink puffer vest and pink jacket over a grey co-ord set with pink booties – can be seen toddling up to a sign on the construction site's fence, which has a photo of Steve wearing a hard hat on it.
"Is he over here?" Bindi asks Grace as she walks over and points to the sign, to which Grace replies, "Yes."
"Grandpa Crocodile, and he's in his construction hat!" Bindi says, before asking Grace, "Do you love Grandpa Crocodile?"
Grace then looks up at the sign and says, "Yes," before bending down and looking up at the photo of Steve with a smile on her face.
READ MORE: Nichelle Nichols, who played Uhura in Star Trek, dies at 89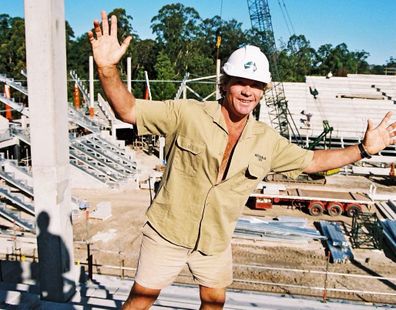 She then walks to another sign of Steve and points to it and smiles and waves.
"Her little wave gets me every time 😍," 25-year-old Chandler Powell, who is Bindi's husband of two years and Grace's dad, commented on the video.
"The cutest ❤️," Australia Zoo wrote.
Fans of the Irwins, meanwhile, were touched by Grace's connection to her late grandfather.
"It's like she knows him from another time 🙏," one person wrote.
READ MORE: Iconic rock band's heartwarming response to Aussie musician's cover of their classic song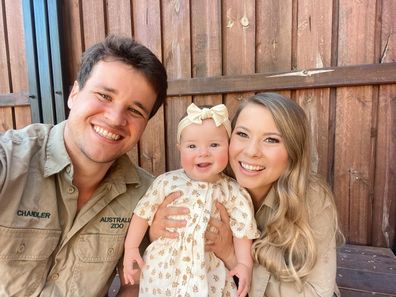 "Steve's soul lives on through his granddaughter," another person said.
One fan commented: "This brought me so much joy! 😭❤️"
"Oh my gosh she is getting so big. She is precious. I'm sure Steve is beaming from ear to ear from above watching her," another fan said – to which Bindi may agree. She has, after all, previously said that Steve would "love" Grace, and the feeling is obviously mutual.
She previously told People: "If Dad was around, honestly, we would never see her. He would be in love. He'd just have her doing everything with him."
For a daily dose of 9Honey, subscribe to our newsletter here.