In 2022 iconic '90s pop band Aqua celebrate the 25th anniversary of their debut album 'Aquarium, and their smash hit 'Barbie Girl'.
In 1997 Aqua released the unforgettable 'Barbie Girl'. The hit made everyone sing along to the lines: "I'm a Barbie Girl, in the barbie World," while it also catapulted Aqua into the public consciousness.
Not only did the group gain attention for their iconic music, but their cartoonish universe with blue hair, spikes, and wild outfits also made them a true symbol of the late 90s.
'Thanks to the doll-centred storyline and kitschy music video, which perfectly matched the playful aesthetic of the 90s perfectly, 'Barbie Girl' raced to the top of the charts worldwide and became an instant classic. Even though the song sounded tailor-made for children, the lyrics told a different and much more un-child-friendly story, which infuriated parents everywhere. Nonetheless, the plastic fantastic song catapulted Aqua into the public consciousness.
Having sold 33 million albums and gained worldwide attention, Aqua stands as a one-of-a-kind moment in Danish music history worth celebrating. And to celebrate the 25th anniversary of their album 'Aqarium'.
The album also features pop gems 'Dr Jones', 'My Oh My' and 'Turn Back Time.'
The classic album which is a staple, must-have in any pop fans collection will be re-released digitally and on vinyl.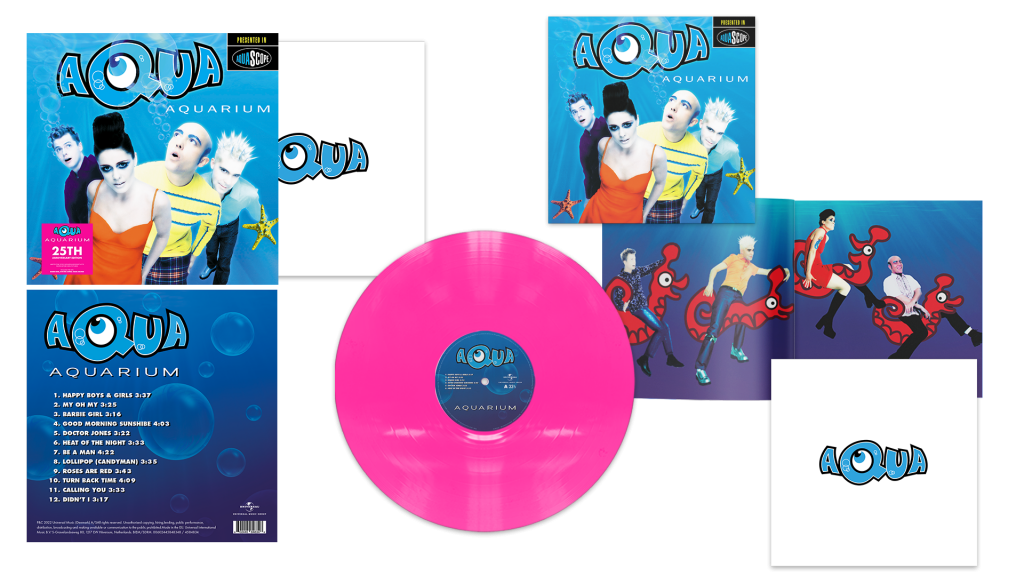 TRACK LIST:
Happy Boys & Girls
.My Oh My
Barbie Girl
Good morning sunshine
Doctor Jones
.Heat Of The Night
.Be A Man
Lollipop (Candyman)
Roses Are Red
.Turn Back Time
.Calling You
.Didn't I
You can pre-order your copy here. It will be released in September!